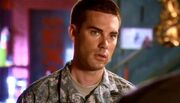 Sergeant
Trevor LeBlanc
is a fictional Character on the Lifetime television series
Army Wives
, portrayed by
Drew Fuller
. Trevor is married to former Alabama bartender
Roxy LeBlanc
. Together, they have two children, Finn and T.J., whom Trevor legally adopted as his own.
Roxy
becomes pregnant with the couple's first child in Season 3. In Season 6 Roxy becomes pregnant again this time with twins.
"
I jump to conclusions, I'm a terrible cook, I forget names, kinda clumsy, hence the knee, um... I can be impulsive and sometimes a little bit too sensitive. .
"
— Trevor LeBlanc
Fictional biography
Edit
Trevor meets Roxy in season one and the two marry soon after. He adopts Roxy's two sons, Finn and TJ and
Trevor LeBlanc

First appearance

"A Tribe is Born" (episode 1.01)

Created by

Katherine Fugate

Portrayed by

Drew Fuller

Nickname(s)

Trev (by Roxy) LeBlanc

Gender

Male

Occupation

Soldier and NCO (United States Armed Forces)

Title

Sergeant in the U.S. Army (23rd Airborne Division)

Spouse(s)

Roxanne "Roxy" LeBlanc (wife; née Brooks)

Children

Toby Jack "T.J." LeBlanc (son, with Roxy; adopted)

Finn LeBlanc (son, with Roxy; adopted)

Unborn child (child, with Roxy; miscarriage)

Wyatt LeBlanc (son, with Roxy, twin)

Drew LeBlanc (son, with Roxy, twin)

Residence

Fort Marshall, South Carolina
loves them like his own; he explains that he was adopted at the age of 7 and he really wanted the boys to feel the feeling of someone wanting them. An Army PFC, he is deployed to Iraq. He returns in Season 2 after an injury to his shoulder, which takes longer to recover than he hopes. Despite
Roxy
's pleas, he is anxious to return to his unit in Iraq. He also develops an addiction to pain killers at this time, which he later kicks because it caused problems between him and his family. At this time, he is awarded the Silver Star and much attention from the media, further deepening his guilt because he believes he should not be awarded for killing innocent people. Until he is physically able to return to combat, he takes a job as the assistant to Lt.Col
Joan Burton
, and later is introduced to the Army recruiting office. In episode 13 of Season 4, he deployed to Afghanistan with his unit.
At the end of Season 5, Lt.Col Sherwood recommends Trevor for the officer training program, which would put him on a path to become a lieutenant.
Community content is available under
CC-BY-SA
unless otherwise noted.