Sally Pressman (born August 1, 1981) is an American dancer and actor.
About Sally
Edit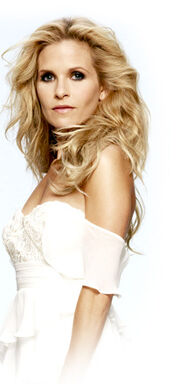 Sally Pressman was born and raised in New York City, where she was classically trained in ballet and became a member of the Manhattan Ballet Company. While studying at Yale University, she played notable roles in a number of stage productions, including the works of Shakespeare and A.R. Gurney. After graduating cum laude with a B.A. in theater studies, Pressman treaded the boards as Mrs. Grimes in Roger Kirby's "Burleigh Grimes" in London's West End.
Pressman appeared in the romantic comedy "My Best Friend's Girl" opposite Jason Biggs, Kate Hudson and Dane Cook. Her additional television credits include guest appearances on two CBS series, "Shark" and "The New Adventures of Old Christine," and the Lifetime movie "Love Sick: Secrets of a Sex Addict." Her feature film credits include the independent film "The Dread."
Sally Pressman

Born

August 1, 1981 (age 30) New York City, New York, USA
As a child, she attended Spence School for girls in New York. She was classically trained in ballet and was a member of the Manhattan Ballet Commpany. She graduated with a Bachelor of Arts degree in theater studies from Yale University, where she also participated in such productions as
The Merchant of Venice
,
The Dinning Room
,
Freeomland
and
Sylvia
. In London, she played in the West End premiere of
Burleigh Grime
in the role of Mrs. Grimes (2004).
Apart from a minor role in the film Swordswallowers and Thin Men, shot at Yale while she was still a student, her film career effectively began in 2006 with the independent horro film, Last Rites of the Dead (released as Zombies Anonymous ). She also appeared in another independent horror film, The Dread, released in 2007. In 2006, she appeared on American network television in the series Shark. She currently appears on the Lifetime Television series Army Wives as Roxy LeBlanc.
With other members of the Army Wives cast, she joined the Picket Line on November 13, 2007 in support of striking writers
Filmography
Edit
Year
Film/TV Series
Role
Notes
2003
Swordswallowers and Thin Men
Monica
shot at Yale
2006

Zombies Anonymous

Angela's Boss
Minor role
2006

Shark

Deena Brock
Pilot episode
2007 - present

Army Wives

Roxy LeBlanc
Regular
2007

Crimmial Minds

Chrissy Wilkinson
One episode
2007
Life Unkind
Amelia
Short film, comedy
2007
The Dread
Teri
Lead role
2008
Love Sick: Secrets of a Sex Addict
Sue Silverman
Direct-to-TV film; lead role
2008

The New Adventures of Old Christine

Melanie
Guest, one episode
2008

My Best Friend

's Girl
Courtney
Minor role
Pressman is the daughter of Penny Ann Pressman and Jonathan Bernstein. Pressman's mother studied fine arts and theater at Brandies University and works for Christine's Auction House. Pressman's father is a lawyer and investor. She no longer uses her childhood name of Sally Bernstein professionally, preferring her mother's maiden name. Pressman has a brother, Benjamin Rhodes Bernstein.
Her maternal grandparents were Rhoda and William Manny Pressman. William Pressman, as Executive Vice President of Hasbro Toys, is credited for creating the G.I.Joe action figure, an armed forces doll.
Her maternal great uncle was Jack Pressman, the founder of Pressman Toy Corporation .
On October 19, 2010, Pressman accepted the marriage proposal of her longtime boyfriend David Clayton Rogers. The couple met at Lesley Kahn's Acting Studio.
References
Edit
External links
Edit
Community content is available under
CC-BY-SA
unless otherwise noted.