About Roxy
Edit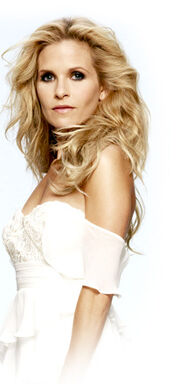 23 year old Alabama native Roxy is a sassy young mom of two boys and is married to
Roxy LeBlanc

Nickname(s)

Rox

Aliases

Roxanne Marie Brooks (birth name) Roxanne Marie LeBlanc (Full name)

Occupation Current:

Bartender and owner of the Hump Bar

Spouse(s)

Trevor LeBlanc (husband)

Children

T.J. LeBlanc (son)

Finn LeBlanc (son)

Unnamed child (with Trevor, miscarried)

Wyatt LeBlanc (son with Trevor, twin)

Drew LeBlanc (son with Trevor, twin)
Sergeant Trevor LeBlanc. She married her military man (then a private) after only a few days of courtship, and he's given her a better life than she's ever known. He's even adopted her sons. However, Roxy is still adapting to Army life, including the class system of rank that applies both to the soldiers and to their families.
Befriending a few fellow Army wives and running the local bar on post has helped Roxy adjust. Although she was the most recent addition to Fort Marshall, Roxy is often the glue that keeps the Army wives together.
Fictional Character Biography
Edit
Roxanne Marie "Roxy" LeBlanc (née Brooks) is a fictional character on the Lifetime television series Army Wives , played by Sally Pressman. She is married to recently promoted sergeant, Sgt. Trevor LeBlanc. She has two sons, Finn and T.J., from two separate previous relationships. Trevor has legally adopted both children. Roxy becomes pregnant with the couple's first child (her third) in Season 3, but miscarries in Season 4.
"
I just want to know that you have faults, Trevor. You know, like normal people.
"
— Roxy LeBlanc
Roxy and Trevor married after only a four-day courtship. She is initially an outsider on the base until chatting to Claudia Joy Holden in the Hump Bar where Roxy has taken a job as a waitress. Soon after, she befriends other wives, as their common bonds outweigh their differences. Roxy has dealt with an alcoholic mother and an abusive former spouse, and her family has constant money problems. As the health of Betty, owner of the Hump Bar, deteriorates, Roxy is groomed to take over the bar. Despite a noticeable lack of business savvy, her street sense more than compensates. When Betty dies, Roxy briefly renames the bar "Betty's Place," but has since changed it back to the Hump Bar. In Season 2, it is revealed that Roxy never completed high school. With Roland's help, she takes classes and passes the GED exam.
In Season 5, Finn's father (one of Roxy's old boyfriends, named Whit) visits to give some money from a small inheritance toward Finn's education. Roxy subsequently hires Whit to work as a contractor on a truck stop project. With Trevor away in Afghanistan, she begins to feel close to her old flame again, though she resists acting on it.
Community content is available under
CC-BY-SA
unless otherwise noted.