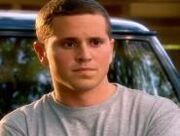 Status: deceased
Specialist Jeremy Sherwood (portrayed by Richard Bryant) was the son of Frank and Denise Sherwood. When the show first started he was seventeen and about to graduate from high school.[9] He had difficulty dealing with his father's deployments and would take it out on his mother by physically hitting her. Frank had hoped he would take up the offer at West Point but Jeremy refused and it created tension between father and son. When Frank learned that Jeremy had been hitting Denise while he was away and even after Michael warned him, he angrily confronts Jeremy and throws him out of the house. At the end of Season 1 Jeremy decided not to go home and instead enlists out of guilt. Frank later makes the trip to Fort Benning to personally talk to him and they reconcile.
After completing his basic training, Jeremy is assigned to the 23rd Airborne Division. In the Season 2 episode "Safe Havens" he was deployed to Iraq. He befriends a dog who had saved him and his best friend PFC Mark Rison from an IED and calls him Lucky. With the help of a friend Lucky is smuggled back to Fort Marshall, much to LTC Joan Burton's bemusement, who has him sent to the pound; Lucky is later adopted by the LeBlancs. While in Iraq he nearly lost a buddy to a roadside bomb and witnessed PFC Rison's fatal shooting. He returned home suffering from posttraumatic stress disorder and survivor guilt, as he had switched places with PFC Rison just minutes before the shooting. After he took his father's gun and went on a rampage at home, he was admitted to the psychiatric ward at Mercer. Family friend Dr. Roland Burton took his case as a favor and helped him through his depression. Jeremy was cleared for duty and re-enlisted upon his promotion to Specialist.
In Season 4 he was redeployed, this time to Afghanistan, as a member of then-SGT Trevor LeBlanc's platoon.[10] He met SPC Tanya Gabriel, a nurse/medic, at the aid station when he brought in SPC Giron who had dislocated a shoulder playing football during down time. Several weeks later he proposed to her after learning she would be returning to Fort Marshall earlier than expected and intended to marry her when he got back. He was killed in action, aged 22, by a RPG during a gunfight outside Kandahar just weeks before the 23rd was due to return home. Denise later meets his best friends PFC Riggs and SPC Giron, who hand her several photos of Jeremy they had taken in Afghanistan and personally thank her for sending Jeremy extra care packages to share with them.
Community content is available under
CC-BY-SA
unless otherwise noted.