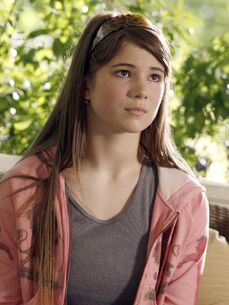 Emmalin Holden is a fictional character from the Lifetime television series Army Wives, portrayed by Katelyn Pippy since season two and portrayed by Caroline Pires in season one.
Character History
Edit
Emmalin is the daughter of Claudia Joy Holden and Michael Holden, who was stationed at Fort Lewis at the time of her birth.
It was revealed in season 2 that she was conceived when Amanda was 2 years old. Claudia Joy and Michael had almost separated, so Claudia Joy booked a hotel room and wouldn't let Michael leave until their issues were resolved. Four days later, Claudia Joy was pregnant.
She is affectionately known as "Emma" or "Kiddo" to her parents and within their circle of friends. In later seasons, Emmalin often helped babysit the younger children.
When her sister Amanda died in season 1, Emmalin struggled to deal with her grief, but she hid it away from her parents.
It came to a head at the end of Season 2 when Emmalin attempted to elope with PFC Logan Atwater (Paul Wesley), a young soldier in her father's division, in defiance of her father's move to Brussels, Belgium when he was assigned to NATO headquarters.
Emmalin had a rebellious streak and a strained relationship with Michael since then. After getting informal counseling from family friend, Dr. Roland Burton, she eventually works through her grief & anger, and she & Michael eventually repair their relationship in Season 3.
In Season 5, Emmalin graduates from high school and leaves home for college. After Claudia Joy's death, she considers dropping out of college for a year, but Michael convinced her to stay in college because that's what her mother would have wanted.
Community content is available under
CC-BY-SA
unless otherwise noted.