Claudia Joy Holden (née Meade) is a fictional character on the Lifetime television series Army Wives, portrayed by Kim Delany.
Claudia Joy Holden

First Appearances
"A Tribe is Born" (episode 1.01)
Last Appearances
"Baby Steps" (episode 6.18)[1]
Created by
Katherine Fugate
Portrayed by
Kim Delaney
Character Information
Full name
Claudia Joy Meade (birth name)
Claudia Joy Holden (married name)
Gender
Female
Date of Death
March 10, 2013
Cause of death
Heart failure
Occupation
Associate attorney
Spouse(s)
Michael Holden (husband)
Children
Amanda Holden (daughter)
Emmalin Holden (daughter)
Relatives
Sara Elizabeth Burton (goddaughter, via Roland and Joan)


Molly Victoria Sherwood (goddaughter, via Frank and Denise)
About Claudia Joy
Edit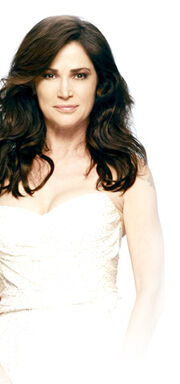 Sophisticated, strong and smart, Claudia Joy has been the heart of the military goings-on at Fort Marshall. A mother to recent high school graduate, Emmalin Holden, and wife to Major General Michael Holden, Claudia Joy has returned to law school to finish earning her degree.
Overall, Claudia Joy is a natural leader with a passion for justice (which can get her into trouble). In difficult situations, she knows how to find solutions to dealing with life on an active military post. Whether taking on the tribulations of struggling enlisted men's wives or the problems of her own family, she always maintains a sense of grace, style and integrity. Claudia Joy and Michael are the godparents of Joan and Roland Burton's daughter, Sarah Elizabeth.
Fictional biography
Edit
Claudia Joy has been married to Major General Michael Holden for the past twenty years. They met while studying at Harvard University. The family lives at Fort Marshall in South Carolina. They have two daughters, Amanda Joy and Emmalin Jane Holden. Amanda was killed in a bombing that took place at the Hump Bar in the finale of the first season. In Season 3, Claudia Joy and Emmalin remain at Fort Marshall while Michael accepts a NATO post in Brussels. In Season 3, her husband is promoted to Major General Michael Holden and returns to Fort Marshall.
It is revealed in Season 1, that Claudia Joy abandoned her pursuits of a law degree after marrying Michael. In Season 4, she returned to school to complete her degree and eventually ended up getting a job at a Charleston law firm run by her former law professor, Grant Chandler (Harry Hamlin). In Season 5, it is revealed that Claudia Joy has an ovarian cyst which turns out to be non-cancerous. Claudia Joy quits her job at Grant Chandler's law firm after he reveals that he harbors romantic feelings for her.
Claudia Joy and Michael are the god parents of Joan and Roland Burton's daughter, Sara Elizabeth, plus Denise and Frank Sherwood's daughter, Molly.
It was revealed in Episode 1 of Season 7 that Claudia Joy died of heart failure in Germany while touring army bases with the First Lady.
References
Edit
↑

Kim Delaney's last physical appearance as Claudia Joy Holden
Community content is available under
CC-BY-SA
unless otherwise noted.